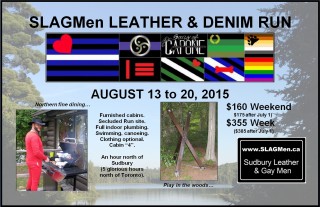 August 23rd Update – SLAGMen 2015 is Done. Another great run thanks to all the men who attended. See you all at SLAGMen 2016
Registration is now open for our annual August Cabin / Camping Leather Denim Run – a casual, friendly social week (or weekend) at an isolated camp just north of Sudbury. With a Cabin 4 equipped with various loaner equipment to try out, plus other areas to do what you like with, it's a great time to connect with other leather and adventurous men of all levels, with no pressure to do anything other than what you ant to do with your time there
We have 4 large cabins, that sleep up to 24 men , with single and double beds. We also have many tenting sites for the more rugged.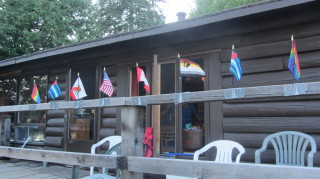 There's propane fridges and stoves, full running water, showers, and lights in the cabins. There is no electricity except for Cabin 4, but arrangements can be made for anyone with C-pap or other electrical needs. More details about the run facilities here.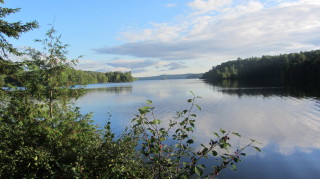 You can come for the full week, just the weekend, or whatever combo you want. Cost is $160 CAD for the weekend, or $355 CAD for the full week – which is a great deal, considering it includes the camp site, all meals, and space in a cabin with bedding provided, canoes, and wood heated hot tub.
We currently have interest and reservations by Leathermen from Toronto, Timmins, Sudbury, Sturgeon falls, North Bay, Sault St. Marie, Stratford, Detroit, and San Francisco to name a few. It's also for beginners and the curious. Come play and learn with some of North and South America's most experienced men.

To download our run application please click here.
To securely purchase your flexible run package with Pay Pal click here.