Updated Dec 21 2012.
i'm slave Mike, i'm currently the youngest member of Master Chuck's family (sorry pup!). i met Master Chuck almost a year ago at a play party where i felt an immediate and strong connection that at the time i really couldn't explain. Now, however i understand that it was the energy and bond between a Master and slave. Through his training and guidance, and that of the rest of the leather family, i've made leaps and bounds forward in all aspects of life and am truly grateful for it. i feel, probably for the first time in my life, that i have found somewhere i truly belong and it is an amazing feeling, as if a giant weight that has been holding me down all throughout my life has been released and i can now fly and flourish, to become who i was meant to be.
Although i am still very early in my leather path, i feel that i have already learned so much and have grown so much as both a leatherman and as an individual, and yet i feel that We/we have only scratched the surface. i know that the bond We/we share will only deepen as we dive deeper and deeper into my core and discover who i truly am.
i am just beginning my path of self discovery, and i don't know where my path will lead me. However i do know it will be full of challenges, lessons, mistakes, good times and bad, and despite all the road blocks life throws at me, i will prevail and overcome any challenge that is thrown before me because i have the support and guidance of my Master and His leather family, and that is all i need.

slave Mike
Update April 18 2012.

During the SLAGMen  run boy mike was re collared as slave Mike.
About year ago, Master Scott made me aware of a boy named mike in Toronto.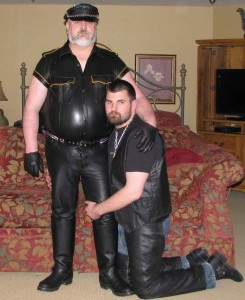 Soon after I was introduced to him, we started chatting. 
About 4 months ago boy mike and I finally met at a play party, and from there we really hit it off. 
Recently he also became friends with many of my Toronto based Leather Family members. 
This past weekend, boy mike  came to Sudbury for his first weekend with me and I offered him a collar which he accepted.
boy mike, will be collared to me and under my firm guidance.