I'm originally  from North Bay (Ontario) and I am currently living in Sudbury, where I'm know by many names such as Master Chuck AKA MSDDTC  (Master, Sir, Daddy, Dog Trainer Chuck). I'm a active member of the Sudbury, North Bay, and Toronto gay BDSM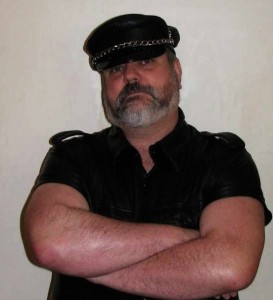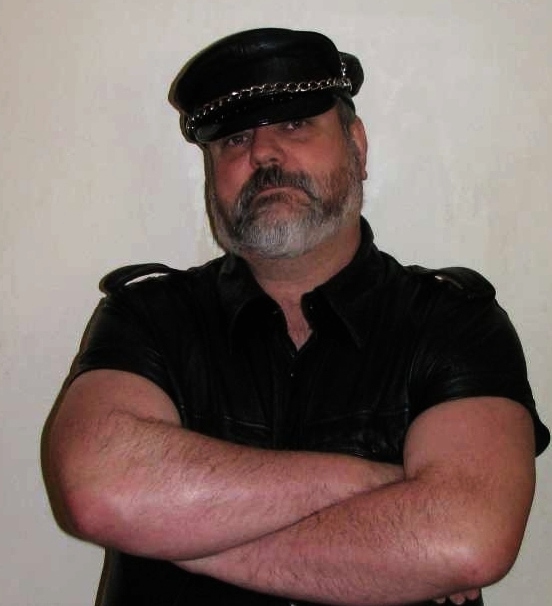 and pansexual Kink communities.
I first entered the gay leather scene in 1986 when I met my partner of 27 years Rocco, who is into 1920s mob hits and kidnappings.
My affinity for leather came from my love for horseback riding and horse training. Later in life I became known to many in the Gay leather community as Cowboy Chuck. Being a "brown" Leatherman made me stand out in the gay leather world attracting attention from several cubs and subs, through my use of western style, outdoors bondage and cattle prods.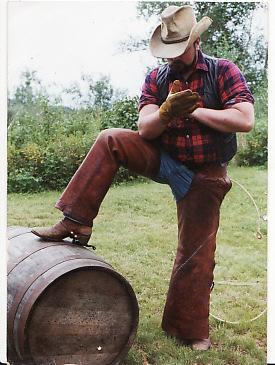 I hold myself to a high standard of integrity, manifesting itself in the basic traditional Old Guard concepts of Honor, Trust, and Respect for all. I was trained in old guard ways as a boy for 3 years to a SIR from Truro (Nova Scotia). Having once been on the other side, I firmly believe that submission is a precious gift that Doms should accept with humility; then use BDSM as a tool to reach the sub's inner core and become one with our boys and slaves.
In May 2009, I was deeply humbled and honored to receive my Masters cover at a Masters' dinner in Toronto. That same year, I was pinned into Mama's family as Mama's Canadian Master C for my 15 years of volunteer work in the field of HIV/HEPC on a provincial level.
Now at 52 years old, I live my life 24/7 as the patriarch of a large poly leather family.
By nature I'm 98% Dom, 2% sub +-2% and 95% sadist, 5% masochist. Learning is never over for me and I regularly seek training opportunities from other well respected Doms and subs, and by attending educational seminars. I am a strong believer in learning from the bottom if possible, and will not do to a boy what I have not sampled myself.
BDSM tastes include mild to heavy CBT & TT, electro, wax, sounding, percussives, rough fucks, stomping, boots, uniforms, elaborate mind fucks, bondage, abductions, interrogations, sensory deprivation/manipulation, piss play, flogging, whipping, objectification, dog play, undercover play, pavlovian response seeding, blue collar, grease (not the musical), garages and barns. My "soft skills" are in risk management, NLP, First AID, CPR, fall arrest, emergency preparedness, fire suppression and electrical safety to name a few, which I firmly believe are all essential skills that a Sir and a Master   can import from a daily life into his BDSM tool box.
I am a proud Leatherman. I'm also very passionate about developing my local and regional communities, not only for us now, but for future generations, through the work that my family does such as educational seminars and demos, and supporting and helping other individuals to find their paths.
I look forward to meeting many of you and possibly playing while on this new journey as your Eastern Canada LeatherSIR for 2011. If you see me please say hi, I only bite if you beg me to.
Feel free to email me at MasterChuck@MasterChuck.ca
If you find an error, wish to leave a comment, or give feedback you can also leave a comment on this or any other any page.