boy Nico's first encounter w/ Master Scott & boy Iain was through a mutual friend in a platonic setting. through time, his interest for leather & kink has grown from a mere curiosity to something he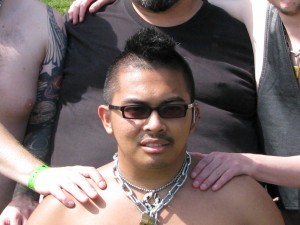 aspired to pursue. Master Scott then decided to keep him under his tutelage & in return for the guidance that was given to him, boy Nico has been Master Scott's "admin monkey". it wasn't long before Master Scott made the choice to properly collar him during the Crude 2011 weekend that boy Iain organized last Sept 2011. 
boy Nico, despite being the snarkastic admin monkey he is, is fiercely loyal & supportive towards Master Scott & the entire leather family. he has an affinity for cuddles and  if given the opportunity to do so, use you as a scratching post. a self-professed geek towards video games, comic books, & anime, boy Nico proves that one doesn't have to prescribe to the majority's perception towards those who belong to the BDSM lifestyle to become part of it. boy Nico is deeply honoured to be a part of this leather family & will always be proud to be called Master Scott's property.