I am Master Scott's boy craig, at 28 I'm the second youngest member of Master Scott's family.
I have at this point been collared to Him since August 2011. i first encountered Sir Scott on Recon, and met the rest of His family in July at the MLT Leather Brunch.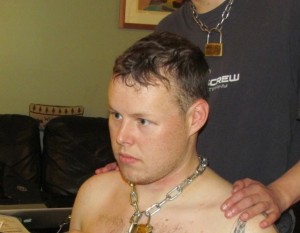 After spending quite a bit of time with them, Sir Scott offered me His collar and I accepted. Within Leather and BDSM I am into: rough play, leather, latex, just about anything bondage, urethral sounds. hot wax, CBT, oral, anal, Fist fucking (receiving), flogging, Tit torture, Biting/Mauling, as well as PUPPY LICKS FROM A MISCHEVIOUS PUPPY NAMED BANDIT, tickle torture, E-stim, Rope, and breath play.
When not in service to Sir Scott, I can be found with an X-box controller in my hand, or surfing video's on you-tube. I am a collector of Tattoo art and love to play paintball. I also love hard rock and classic rock. At 28 I'm the second youngest member of Master Scott's family