First of all Congratulations to the new Western Canada Leather Sir 2012,  Sir Marc and Western Canada leather boy,  boy daniel/pup hoover on their win this past weekend.
Special thanks to Sir Jonathan, Sir Dakota, Ron, David and others for shuttling us around Calgary from to hotel, to the Eagle and various dinners. It was VERY much appreciated and we cannot give enough thanks to all of you!
A big thank you to the boys of Calgary and Edmonton for a wonderful dinner hosted at Sir Dakota's (Western Canada LeatherSIR 2010)
Congratulations and thanks to Sir Scott and boy rene on their year as titleholders.  I for one certainly know the work, heart and soul you have both put into your title year. Your Step Down Speech were an inspiration to myself and all who gave you a standing ovation.
It was great to spend time with our international title holders Sir Alan and pup Nitro, who apart from being some of the hottest men on earth, are also the most down to earth players in our community.
Western Canada had three excellent candidates for their contest – Sir Marc on the Sir side, boy berith and boy daniel on the boy side.
This competition said a lot about the leather community in Western Canada. In particular seeing the Calgary and Edmonton communities coming together, to celebrate their kinks and Leather throughout the contest.
I also want to thank the judges who made judging fun, the contestants who open up to us, and in particular one contestant that almost got me to piss myself with laughter when asked to describe the judges in pup language by barking the answer and barked a yip at me, symbolizing that I scare the shit out of him. I was particularly impressed with questions that asked the contestants how they would be taking care of themselves in order to avoid burn out as way too many title holders do, and how out they would be should they win.
The weekend included
the meat and greet Friday night with demos
Saturday included two seminars – a first for the Western Canada LeatherSIR/Leatherboy weekend with Sir Scott presenting on wax (yum!) and boy iain and I presenting our Get Zapped!  Electro torture and Electro play seminar.
Saturday night culminated with the competition
Sunday was the survivors brunch – the food was great!
Here are some of the public and behind the scenes looks at the weekend.
There are a few more photos on boy iain's blog
On Sunday after the brunch, boy joe was re collared as my slave. Which is why on the rest of this blog he will be referred to as slave joe. Here is the posting re his re collaring.
On the Sunday night boy iain arranged for a private dinner with myself and slave joe at Calgary's Sky 360  a revolving restaurant on top of the Calgary tower.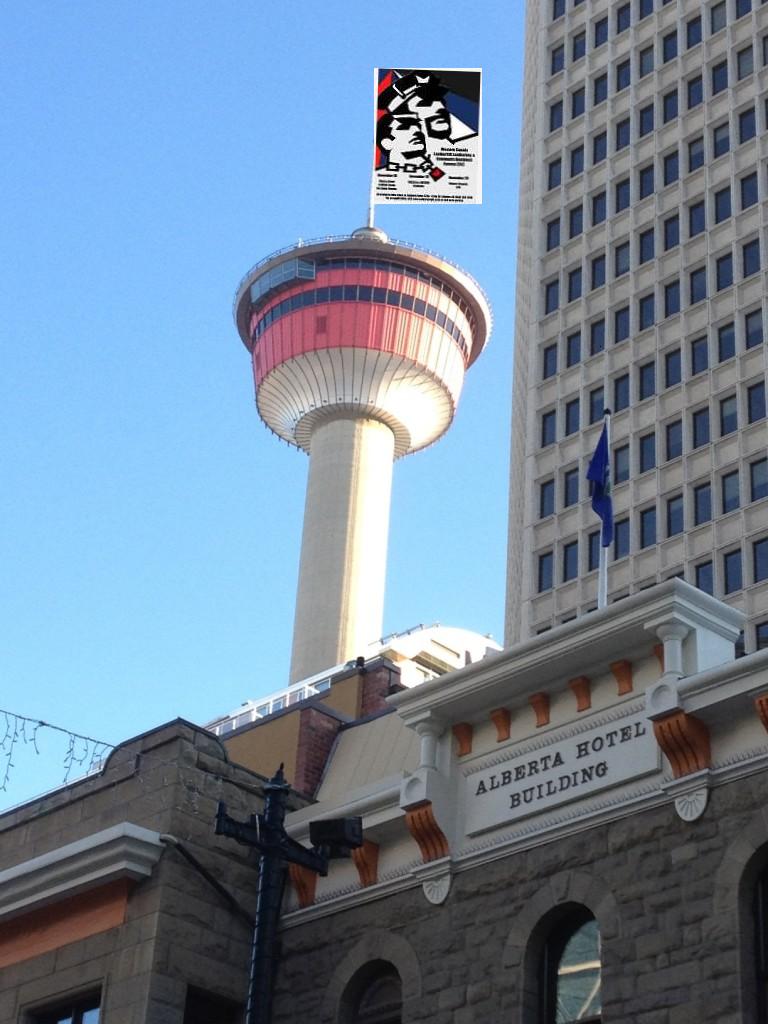 Ok maybe we were noticed
And now about some play…We had decided to stay on till Monday in order to get some overdue play time, putting both of my subs in rubber sleep sacks, edging and tormenting them till they came.